WELCOME TO OUR WEBSITE
OUR MISSION
The mission of the Spring Grove Fire Protection District is to provide customer oriented, value added, fiscally responsible Fire and EMS Service to the community. Specifically, the mission is to prevent fires and reduce mortality and morbidity thru public education and routine bureau inspections; minimize fire loss thru up to date suppression tactics; efficiently rescue individuals trapped in emergency situations; and provide the best ALS transport service available; all while operating safely by providing initial and ongoing education and training for the firefighters, EMT's and paramedics that provide the service.
CURRENT NEWS
Spring Grove Fire Protection District is currently accepting donations for Toys for Tots.  If you wish to drop off a toy donation, please make sure the toy is new and unopened.  The last day to drop off is December 18th.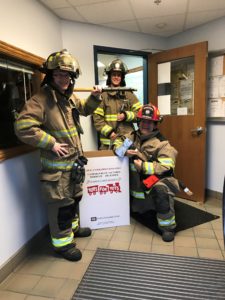 KEEP THE WREATH
RED
The "Keep the Wreath Red" program is used to raise fire safety awareness during the holiday season. The Spring Grove Fire Station features a wreath that is wrapped with red lights at the front center of the fire house. The wreath remains lit during the holiday season. If a fire occurs that is determined to be the result of a holiday decoration, a white bulb replaces a red bulb on the wreath. The hope is the wreath will serve as a constant reminder to practice fire safety during the holiday season.
Here are some suggestions on how you can keep your holidays safe!